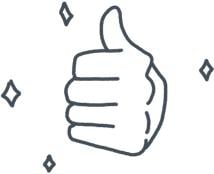 Photo received!
We'll email you once our team reviews your pupillary distance.
Download our app
It's the easiest way to shop frames, order Home Try-Ons, and track packages.
Get reimbursed
If you have vision insurance, you can apply for reimbursement. You can also use flexible spending account (FSA) and health savings account (HSA) dollars.
Visit us in real life
Our stores offer glasses, books, photo booths, and comfy places to hang. Plus our Store Advisors are super friendly.