How to gift your family, friends, colleagues, neighbors—all in one place!
Shop highly giftable items for your near and dear year-round with our group order and private event options.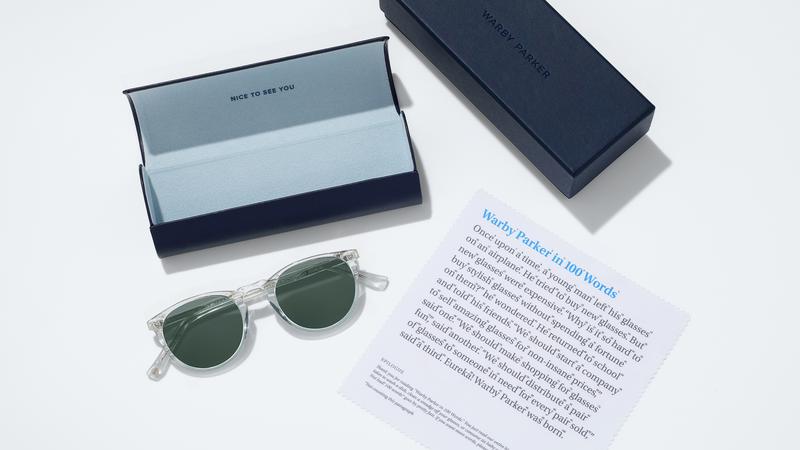 Looking to get hands-in-the-air reactions with your gifts? Try sunglasses.
Our sunglasses—ranging from $95 to $195, plus sales tax—come with our signature case and microfiber lens cloth, and are tucked inside a tidy navy blue box. If you order 50 or more pairs of sunglasses, you can create a custom lens cloth for your frames for free. And—this is neat—for orders of 150 or more pairs, we can bring our shopping experience right to you, with a Warby Parker pop-up. At these private events, super-friendly advisors will be on hand to help style your guests.
Family get-togethers

Wedding parties

Corporate parties

Lifeguard conventions
Gift cards let them get exactly what they want. (Never not a good option!)
Warby Parker gift cards are available in $50, $95, $125, $145, $195, and $295 denominations, arrive in ready-to-give packaging, and are redeemable in stores or online.
With a gift card, you can get:
Stylish prescription eyeglasses

Equally stylish sunglasses

Glasses cases, cleaners, and more

A blue-footed booby (kidding)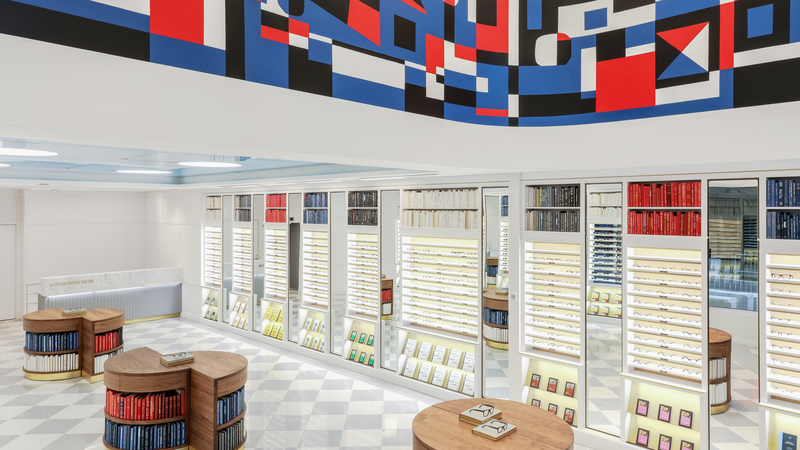 Host a personal shopping experience at a Warby Parker store.
Let us plan a private event for your group of 10 or more at a Warby Parker location! Your guests will receive styling advice from our expert advisors—and as long as they have their prescription info on them, they can order prescription glasses. Smaller group? Swing by at any time and our advisors will help you out.
Who to bring to your event:
Clients

Coworkers

Friends

Anybody with eyeballs!
Let's get started
Ready to set up a bulk order or private shopping event—or just interested in learning more about our offerings and process? Write us and we'll get back to you with all the details.
Got any questions? Peruse our FAQs
How much time do you need to fulfill my order?
If you're purchasing non-prescription sunglasses or gift cards, your order will be delivered within just seven business days from the time we receive your payment. Expect a four-week turnaround time for custom lens cloths. We can hold on to your group gift items and send them later if that's easier for you. Either way, shipping's on us!
I need these *really* soon (like, in less than seven business days).
Got it. Shoot us an email—depending on your order, we may be able to get it to you in time. Insider tip: If you really need something lickety-split, we're able to process gift card orders especially speedily. (And in that case, your recipient can pick out their own pair of glasses or sunglasses.)
You mentioned custom lens cloths. How do those work?
Right! If you order 50 or more items, you can create a custom lens cloth to go with your gifts, for free. Your frames will arrive within seven days from the time we receive your payment, and your lens cloths within four weeks. To get started designing your lens cloth, email [email protected] with your company's logo as vectorized artwork, in either .ai or .esp file formats and in Pantone or CMYK colors. (We cannot guarantee an exact color match on any logos you provide.) Your logo will be sized to a maximum height of about 3 inches and a maximum width of about 3 inches, and then positioned in the center of a 6 x 6-inch white lens cloth.
You also mentioned hosting a private pop-up at a location of my choice. What do I need to know about that?
A few things: If you order 150 or more pairs of sunglasses, we can host a pop-up at your event or office. We'll bring up to 10 sunglasses styles, a Warby Parker display, and two advisors to help your guests find frames. Reach out to us at [email protected] at least two weeks before your target date so we can get everything ready to roll. The sunglasses bulk order must be purchased before the event. Please note that we can only serve cities with an existing Warby Parker retail location, and we do not offer bulk discounts on pairs purchased for pop-up events.
What about in-store private shopping events?
We can set up a private shopping experience for groups of 10 or more people at a Warby Parker retail location. You'll see our product firsthand and receive styling advice from our expert advisors. At these events, guests can also order prescription glasses as long as they bring their prescriptions with them. Events are subject to the store's availability, so email [email protected] to schedule at least two weeks before your ideal date. Have a smaller group? You can swing by anytime during store hours and our advisors will take great care of you.
What if any of my recipients want to return or exchange their gift?
If a recipient wants to exchange a pair of sunglasses, we honor a 30-day exchange policy from the date the gifts are distributed. But please note that gift cards and group orders of sunglasses are non-refundable.
What payment do you accept?
You can pay with a credit card or by check. We'll get cracking on your order once we receive your full payment. All bulk and corporate orders are subject to inventory availability at the time that full payment is received.
Do you offer discounts for group orders?
We're happy to discuss our pricing options for group orders. Just reach out to [email protected].
Anything else I should know?
Yes! We have a few restrictions. All bulk orders will be set forth in a written contract between Warby Parker and the purchaser. Before processing a bulk order, Warby Parker must receive both the signed contract and the full payment from the purchaser. Purchasers may not resell the sunglasses or gift cards. If a purchaser is ordering on behalf of a client, the purchaser may not charge its client for an amount greater than the amount invoiced by Warby Parker. Purchasers may not alter the frames, cases, cleaning products, or gift boxes in any way, including branding those items with another party's logo or branding, or covering, altering, or obscuring Warby Parker's logos or branding.
Any questions? Email us at [email protected], or we're available by phone (888.492.7297) and chat every day, 9 a.m.–9 p.m. ET.