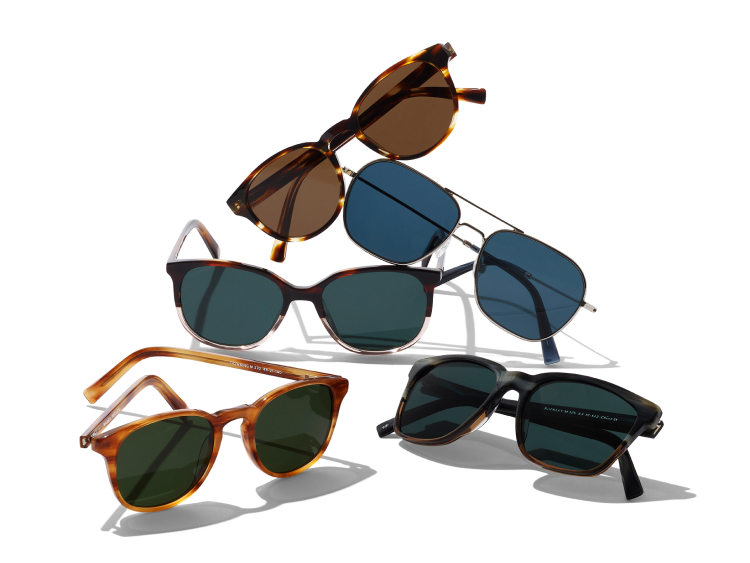 Our sunglasses lens guide
Learn about the lenses you can choose for your new pair, from prescription types to materials—the works!
LENS BENEFITS
Included with every pair at no additional cost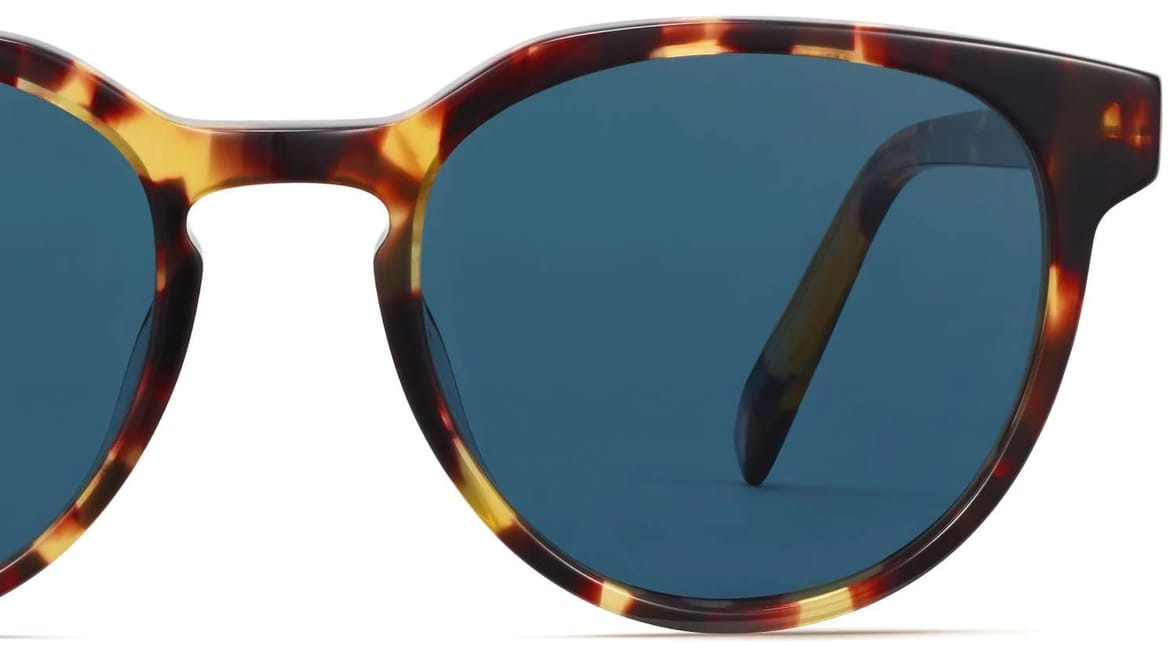 Scratch-resistant treatment

A treatment that does just what it sounds like. (And if scratches appear, we'll replace your lenses for free within six months of purchase.)


UV Protection

Our lenses block 100% of UVA and UVB rays. (Protect those peepers.)

Polarization

Our prescription sunglasses, and many non-prescription pairs, come with polarized lenses at no added cost. These lenses enhance vision and comfort by eliminating glare, increasing contrast, and improving color perception. (You'll see which styles come with polarized lenses during checkout.) Prefer non-polarized lenses? Just chat us!
PRESCRIPTION TYPES
We've got options to meet a variety of vision needs
Non-prescription
These lenses offer style and protection with no vision correction. Most people choose this option when they're shopping for a new pair of everyday sunglasses. Non-prescription lenses are included in the price of our sunglasses.


Single-vision
These prescription lenses come with polarization, correct one field of vision—near, intermediate, or distance—and start at $195, frame included.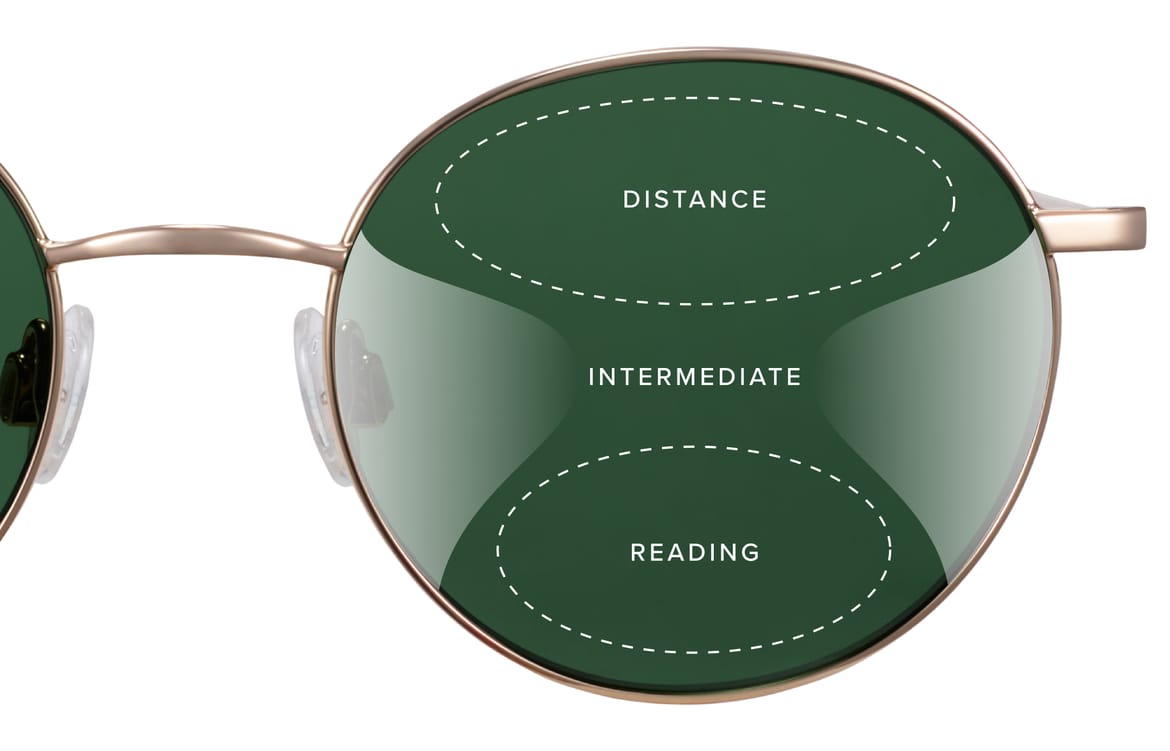 Progressives
Our digital free-form progressive lenses provide seamless correction for reading, distance, and everything in between (so you don't need to switch between multiple pairs). If there's an "ADD" value on your prescription, progressives may be right for you. Unlike bifocals or trifocals, progressives don't include a visible line between each power. Ours start at $395.

Learn more >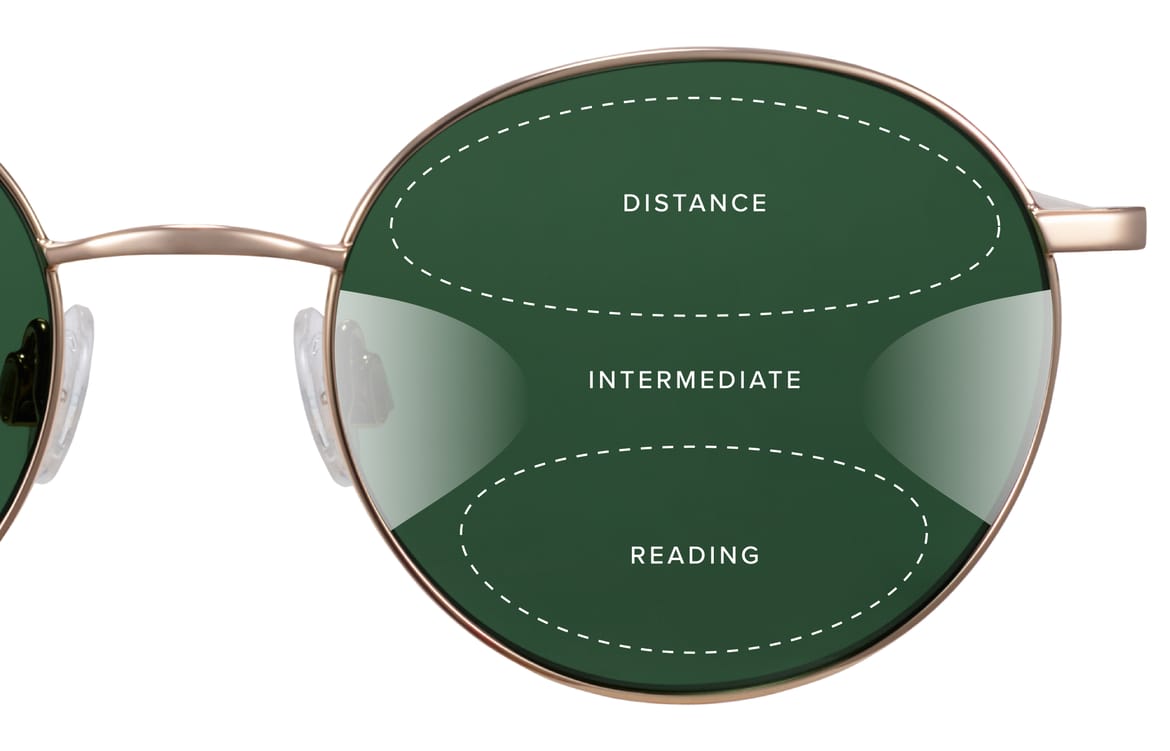 Precision progressives
If you're looking for superior visual quality, with added comfort, then these premium progressive lenses are a smart upgrade. Each pair is specially made using additional measurements​​ to optimize your vision, reduce peripheral distortion, and provide a wider field of view. They start at $495.

Learn more >



Readers
These polarized lenses offer simple magnification (up to +2.75) for, well, reading—no prescription necessary. Sunglasses with reading lenses start at $195.


Please note: All of our prescription sunglasses—whether single-vision, progressives, or readers—come with polarization at no added cost. To place an order with non-polarized lenses, chat us.
LENS TYPES
From subtle tints to flashy finishes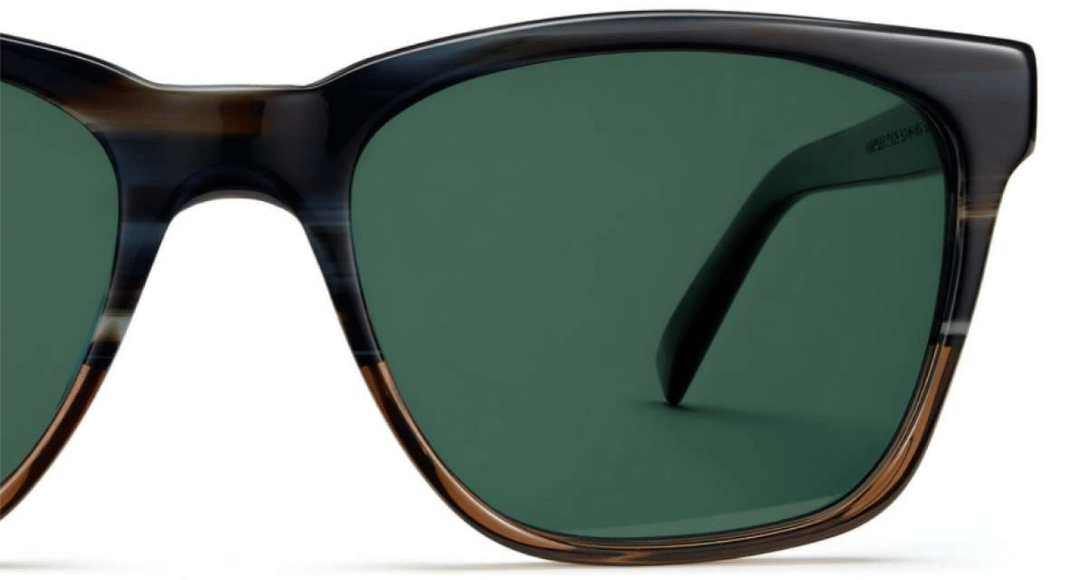 Solid
Consistently colored from top to bottom, our solid lenses come in a glorious palette, from grey to green and beyond. When you order prescription sunglasses, you can choose between brown, green, grey, or blue lenses—all of which come polarized.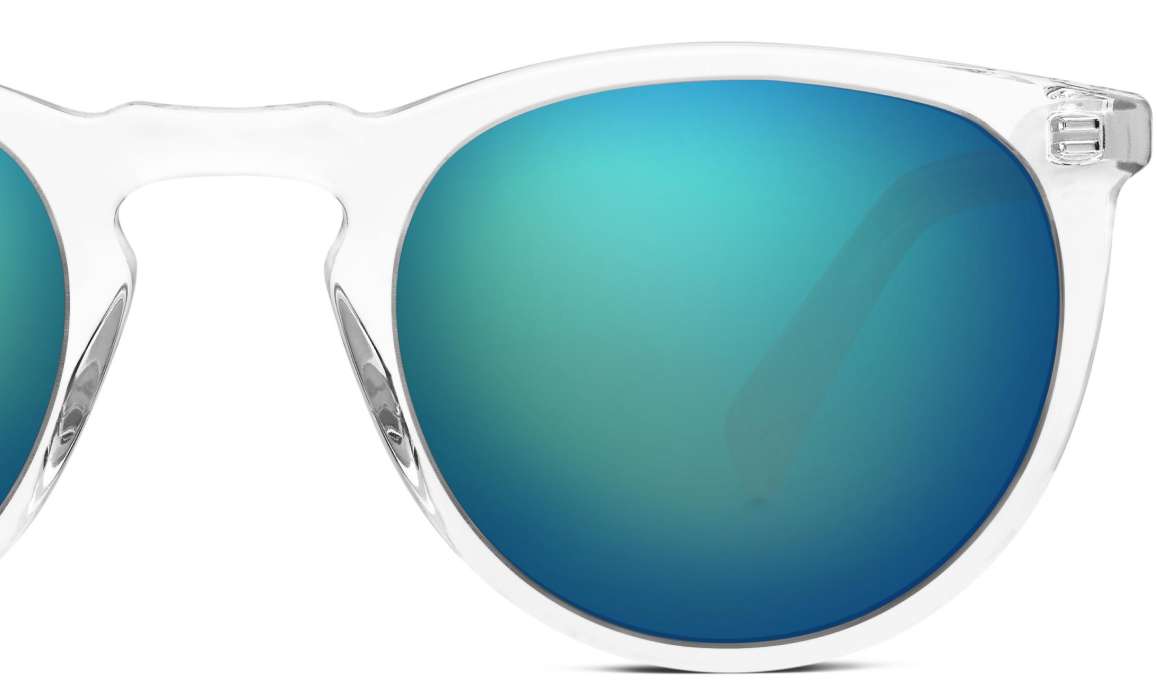 Flash Mirrored
The mirrored surfaces cut down on the amount of light entering the eye (healthy) and keep things mysterious (stealthy). Find flash mirrored lenses in silver, blue, and rose gold.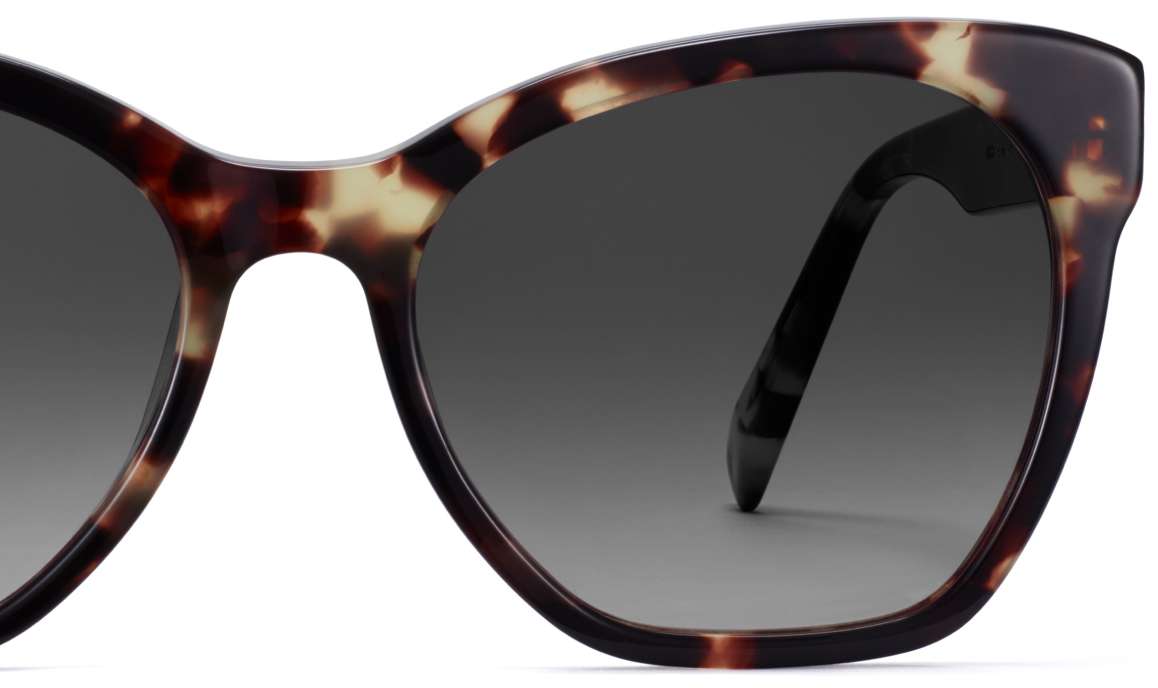 Gradient
These lenses transition from one color at the top to another (or a lighter tint of the same) at the bottom. Pick from grey, green, or violet gradient lenses when you order prescription sunglasses.
Our designers handpick lenses that best complement the colors of each frame. If you're purchasing prescription sunglasses, you can personalize your pair with your choice of polarized or non-polarized lens color—just pick from our selection of hues when adding any pair to your cart.
LENS MATERIALS
Find what's best for your prescription
CR-39
CR-39 is a lightweight, durable polymer that holds color beautifully. It's also the lens material that comes with all of our non-prescription sunglasses, at no additional charge.


Polycarbonate
These lightweight, impact-resistant lenses are our most popular option for prescription sunglasses. These sun lenses are included in the price of our prescription pairs, which start at $195.


1.67 high-index
Recommended for anyone with a strong prescription (+/-4.0 or higher total power), 1.67 high-index lenses are up to 20% thinner than polycarbonate lenses. These cost an additional $100.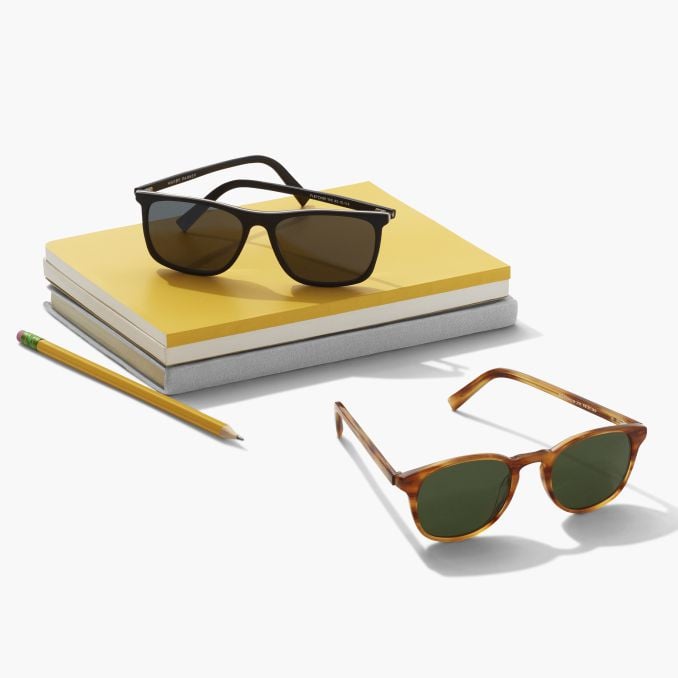 Ready to get started?
Start browsing all sunglasses frames, then select your lenses.