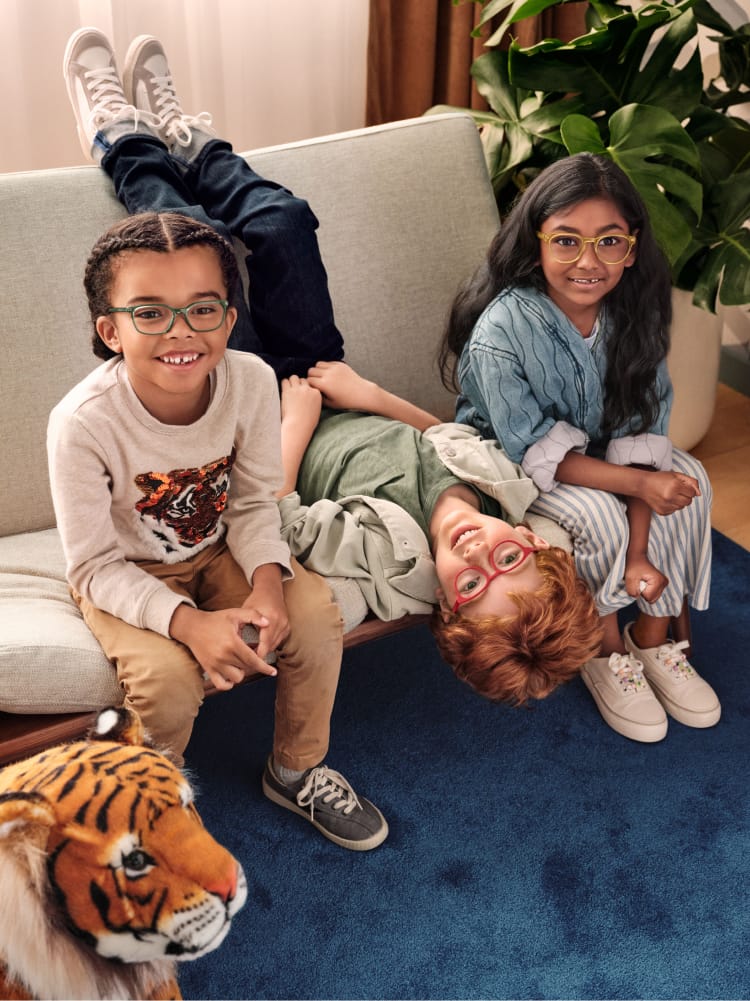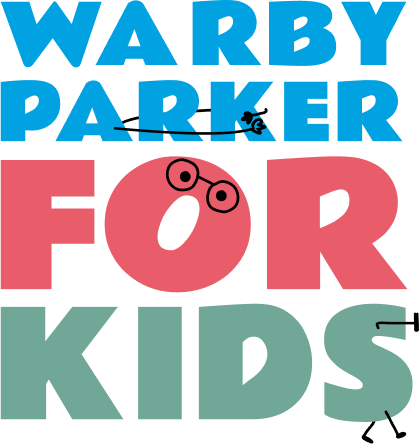 We've scaled down some of our favorite grown-up frames—and really upped the adorableness!—to fit our tinier friends.

(Note: We offer comprehensive eye exams to patients 4 and up, and you can add blue-light-filtering or light-responsive lenses to any pair, with or without a prescription.)
Starting at $95, including prescription lenses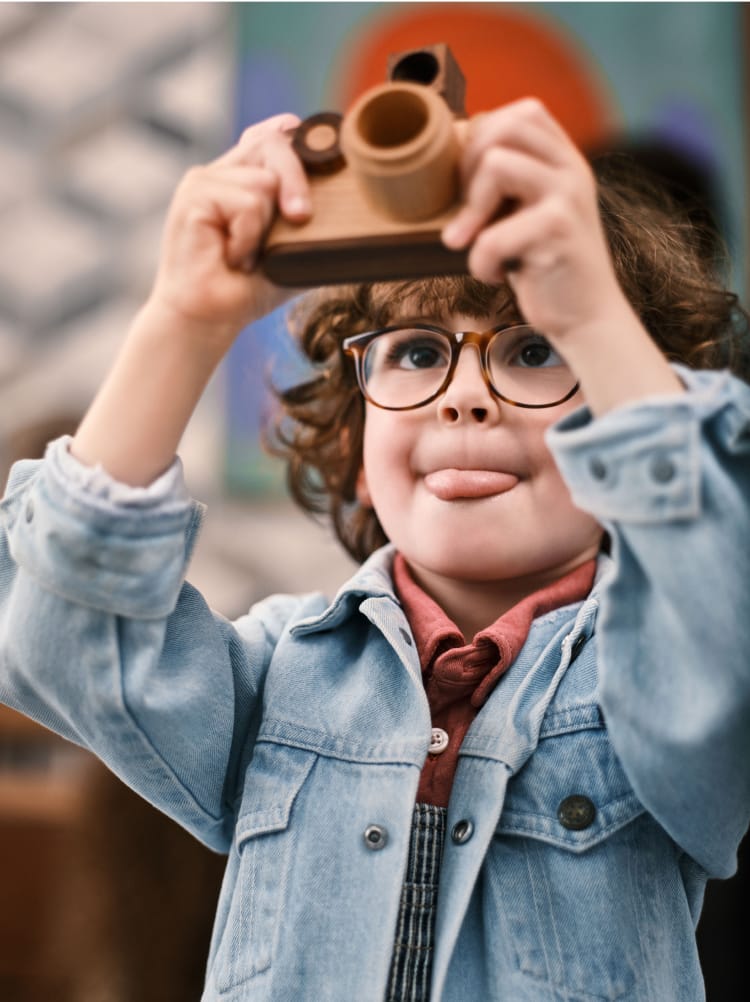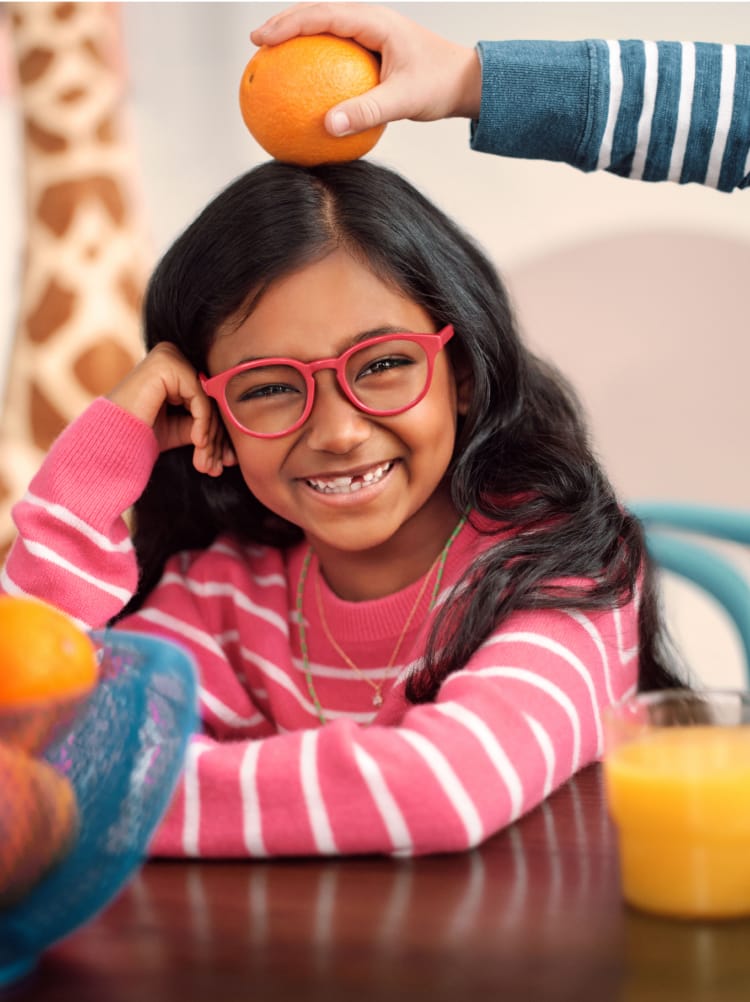 The frames
We designed our Jr. Jr. frames with kids 4—8 in mind. (Older kiddos may prefer our extra narrow or narrow glasses for adults, which are a tad larger.) All kids' styles are available in stores, but you can also give us a ring at 888.492.7297 to place your order.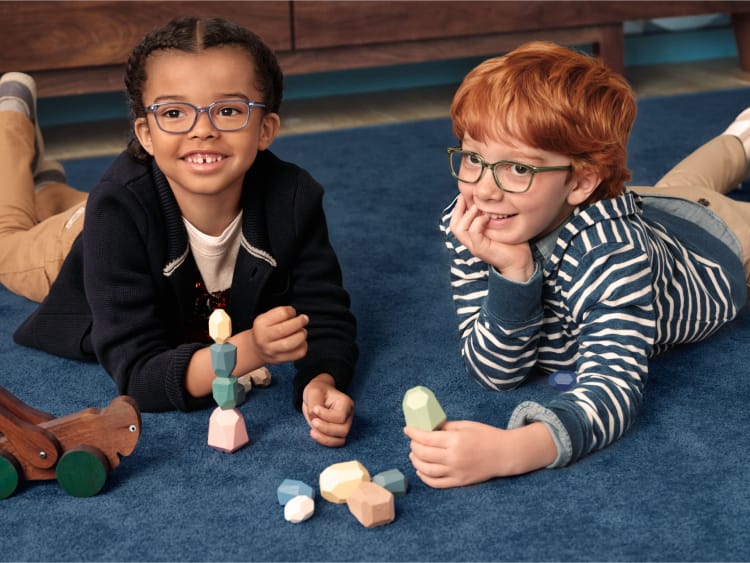 For every pair of kids' glasses purchased, a pair is distributed to a kid in need, thanks to our nonprofit partners and Warby Parker's Pupils Project.
What do I need in order to buy kids' frames?
We'll need this info:
The frame name, color, and size (Jr. Jr., extra narrow, or narrow) you'd like to order
An up-to-date copy of your child's prescription. (If we already have it on file, great! If not, make sure to locate it.)
Your child's PD (pupillary distance)
Once you have this information handy, you can place an order in one of our participating stores or over the phone at 888.492.7297, any day, 9 a.m.—10 p.m. ET.
Do you offer eye exams for kids?
Yes. We offer pediatric eye exams for patients ages 4—17, which include a comprehensive eye health check, an evaluation for common childhood vision issues, and a refraction to measure eyesight and eyewear needs. The doctor will explain their findings and, if necessary, discuss possible vision solutions.
What types of lenses are available for your kids' frames?
Our kids' frames come with polycarbonate lenses, which are recommended for customers 16 and under. These are the most impact-resistant lenses we offer, and they're safest for minors. They also include anti-reflective coatings and scratch-resistant treatments, and our prescription lenses are covered under our six-month, no-scratch guarantee.

You can also add blue-light-filtering lenses to any pair of prescription or non-prescription kids' glasses. These lenses cost an additional $50 and you can learn more about them right here.
Do your kids' frames come in multiple sizes?
All of our glasses for kids are scaled-down versions of existing adult-sized shapes. We dubbed them Jr. Jr., and they suit kids 4—8. (You'll see every style right here, on this page.) Older kids may find a better fit with our extra narrow or narrow adult frames, which are larger than our Jr. Jr. frames.
Can I use insurance to purchase kids' frames?
Yes! We have a few options for using insurance with us:
We're an in-network provider for vision plans through UnitedHealthcare as well as select employer groups through Davis Vision. We can check eligibility for any family member included on your plan. Learn more.
If you have a different insurance carrier, we can help fill out an out-of-network claim to be reimbursed for the frames.
We also accept FSA and HSA dollars for purchasing prescription eyewear. Check out more information here!
If I order in a store and live in another state, can you ship them to me?
If you purchase the frames in a U.S. store, we can ship them to you anywhere in the U.S., Puerto Rico, Guam, the U.S. Virgin Islands, and military APO/DPO/FPO addresses. If you purchase in a location in Canada, we can ship to you within Canada.
What if I want to order by phone?
All good. We'll ship them anywhere within the U.S., Canada, Puerto Rico, Guam, the U.S. Virgin Islands, and to military APO/DPO/FPO addresses.