Got your eyes on a new job?
Great! We're always looking for friendly, talented folks to join our team. Look for a position below that best fits your experience.
All kinds of people work at Warby Parker: dog people, cat people, bookworms, people who can do the worm. According to the hundreds of coworkers we asked, you might be a good fit if you're…

A RELENTLESS GO-GETTER
Our company is changing as fast as it's growing (read: very, very fast). We're constantly setting ambitious new goals for ourselves, working on all cylinders to meet them, and proactively stopping along the way to set newer, even more ambitious ones. We're goal gluttons.
AN IDEA MACHINE
We never get tired of crazy, creative new ideas. Sometimes these take the form of subtle new design details, other times they majorly transform the company. Here's the SAT analogy: Garfield : lasagna :: us : innovation.
AN MVTP (MOST VALUABLE TEAM PLAYER)
About those ideas—they come from all over the company, and it takes the whole team to make them happen. From retail advisors to graphic designers to data scientists, everyone pitches in with their particular strengths.
AND GOOD COMPANY
Bottomless snacks, book clubs, midday surprises, intramural sports: We do a lot to mix our workdays up. But nothing beats the delight of working with smart, curious, and kind people committed to doing good in the world.
#teamwarby
---
Featured jobs
Senior Technical Product Manager
Lead and drive the product technical development process from inception to completion!
Apply
Software Engineer, iOS
Help make our app (named by Apple as one of the top 10 of 2016!) even better
Apply
Manager, Supply Chain Planning & Analysis
Drive performance analytics and design integrated business planning function
Apply
---
All jobs
Fun fact: Our headquarters is located in New York City, but we have a sparkling new office in Nashville, Tennessee.
Analytics and Data Science
---
---
Engineering and Technology
---
Eyewear Design and Product Development
---
Finance, Legal, and Talent (HR)
---
---
Marketing, Brand Management, and Brand Design
---
Merchandising and Planning
---
Operations and Supply Chain
---
Product Management and E-commerce
---
Retail (Corporate)
---
---
Strategy and Consumer Insights
---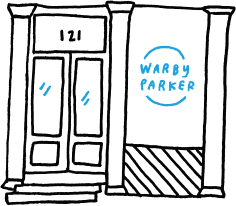 Retail store positions
We have retail stores across the US (and Canada!)
Check our openings